Saying goodbye to Koken
In the early 2010s, Brad Daily, Lauren Smith and I had the idea of building an entirely new, self-install content management system from scratch. Brad and I had built one once before in our previous venture (SlideShowPro), but this CMS was going to be different. It would offer best-of-class photo and video management, blogging, website publishing, and feature an integrated storefront for purchasing themes and plugins.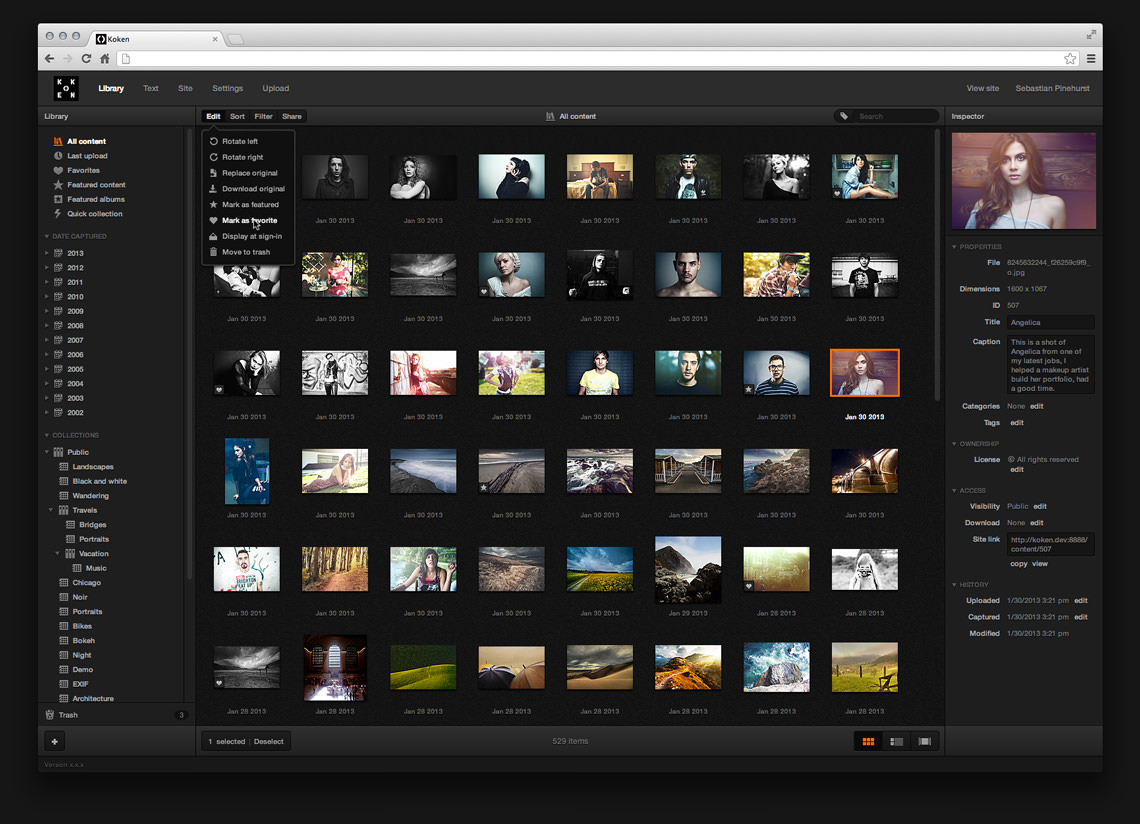 It was a lot of work for three people, but together we plowed ahead and built Koken. Named after black-clad stage hands in traditional Japanese theater, the product aimed to be the perfect system for photographers, designers, and artists to manage their online assets and publish portfolio websites of their work.
Financially bootstrapped from the beginning, Koken operated without venture capital or third party investment. It was launched as free product, with the goal of earning revenue through the sale of themes and plugins. We eventually started earning money, but growth was glacially slow, and it wasn't enough to cover expenses.
To be a successful business we needed more users, products and services to sell, all of which required more time and monetary investment. We needed to double-down and recommit to build a sustainable business. And that's when the problems started.
A couple of years after launching Koken, I was worn out and stressed. I wanted to stay focused, double-down, and work harder, but the strain of working months without pay and keeping the business afloat financially (often times using funds from my personal savings) eventually caught up with me.
Out of the blue, an opportunity for a design leadership role knocked on my door. I wasn't looking for a job, but the job found me. I wanted to keep working on Koken, but knew accepting a full time job was the right thing to do for me and my family. I accepted the role, and soon thereafter, Brad had a similar change of heart and left to pursue new opportunities as well.
We then questioned what to do with Koken, for the business was continuing to earn revenue, and could be a thriving business with sufficient investment. I approached a number of industry contacts to find the product a new home, and eventually found a Koken user who also happened to own a small software company. They pitched a plan for how they would grow Koken, and it sounded like a win-win for everyone. Users could continue using and enjoying Koken, the product would continue to improve and mature, and we (the founders) could pursue new professional opportunities.
And that was all true, for a time.
A year or so later, the new owner stopped actively developing Koken. Problems began to emerge. I knew it was getting bad when customers started reaching out to me asking for help, which unfortunately I couldn't do anything about. Emails kept coming, and all I could do was apologize and empathize.
In 2020, I contacted the owner to inquire about the current status of Koken and explore the idea of returning the product to its original owners. We wanted to at least prop-up what was broken and make Koken operable again. If Koken was worth saving, and there was sufficient public interest, we'd run it as a side-project. Otherwise, we'd formally shut it down.
We had one conversation, and the net result seemed positive, but the current owner is unresponsive despite our numerous attempts at reconnecting. The only reason we're able to publish the page you're looking at is because we have administrative access to the domain's DNS settings. We felt we owed the Koken community something more than a blank 404 page.
Unless the current owner has a change of heart, this would appear to be the end of the road. Anyone continuing to use Koken should stop doing so as soon as possible and migrate their content to a new provider (WordPress, Squarespace, SmugMug, Zenfolio, etc).
In the end, we're proud of what we built, yet sad for how it ended. We put so much of ourselves into every pixel and line of code, and hated watching the product slowly wither and fall apart over the past few years. We hope that by sharing this farewell message we can all move forward.
Thank you for believing in Koken. We're sad to see it go.
— Todd Dominey, Co-Founder of Koken